---
For this Skin School, Dr. Barbara Sturm was joined by one of the fashion industry's most in-demand models, Aweng Chuol. Born in a refugee camp in Kenya, Aweng was scouted at just 16 years old while working at a McDonald's in Sydney after her family emigrated there, and has gone on to walk for Savage x Fenty and Philipp Plein, and fronted Mugler's recent Spring / Summer campaign, whilst also featuring on the cover of British Vogue's 2022 August issue, which is a celebration of Pride. Aweng also works with charities such as War Child and Children In Conflict and is a vocal activist in issues relating to mental health and the LGBTQ+ community.

Read on to discover our top seven takeaways from the intimate conversation and click here to watch the Skin School in its entirety.
---
1.Slow down and be with yourself
Dr. Sturm and Aweng began their conversation discussing how they take time for themselves. "I feel like as soon as the pandemic happened, I went through a lot emotionally and I realized that I needed to find something tangible that I had a hold of, so I started with puzzles. I do one puzzle a week now," explained Aweng. "I also meditate every day for at least an hour… and I take naps anywhere and whenever I feel like I'm over stimulated. The world is going too fast, there are so many things going on… I had to just learn to take naps or meditate."
2. Your health is your wealth
"I grew up with a lot of older people that didn't care for their health when they were younger and then as they got older, they developed a lot of health issues," said Aweng. "So, in my twenties, I'm careful with my eating habits and working out and I have a personal trainer in London just because your health is your wealth, honestly, if you don't work out today, if you don't take care of your skincare routine today or whatever, in the future you're going to sit and think you could have avoided that."
3. Every day, do something 1% better
Dr. Sturm explained the importance of having a good work ethic and discipline in what you do to create good habits, "if you think you're too lazy to work out every day, start thinking differently." Aweng went on to tell Dr. Sturm about the "1% rule," a trick she had learnt from an old friend. "Every day just do something 1% better. That's it. And then by the end of the year you'll be 365% better as a person," Aweng explained. "It only takes 60 days to build a habit so by the end of the year you can develop six or seven good habits by just putting in 1% daily."
4. Everything in moderation
"I try to eat consciously. I avoid fast food unless I'm really, really hungover, but we all have those days," said Aweng. Dr. Sturm agreed, adding, "that's the good thing – if you do everything in moderation and everything balanced, you don't need to be extremist about stuff." Aweng went on to explain how her primary school teacher influenced her diet. "She would always say three vegetables, two fruits, a bottle of water and eat whatever else you want. I'm also a fan of smoothies…Every day I make a smoothie in the morning and it keeps me going."
5. Inflammation isn't always visible
"Inflammation comes along with anything we don't like," said Dr. Sturm, "including pimples, redness, breakouts, irritation, and aging. It's not always visible, it can be silent and comes from our diet, no sleep, stress, certain skincare products you use, sun, pollution and HEV light – and it destructs our tissues, destroys cells and our systems." Dr. Sturm went on to explain that to get inflammation under control, we should follow an anti-inflammatory lifestyle, which includes a mostly plant-based diet, no processed meat and no sugars.
6. Skincare should never burn
"When you use a skincare product and it tingles, burns and makes your skin red, that is causing inflammation," said Dr. Sturm. "So, everything from Retin-A, Retinol, Acid Peels, Glycolic and laser treatments cause inflammation – which is the enemy of our skin." Dr. Sturm went on to explain that inflammation causes everything from breakouts, pimples and acne and destructs the whole structure of our skin. "We really need to take the best care of our skin to keep the skin barrier and microbiome healthy."
7. Use skincare that works for you
"As an East African child, our parents would use Turmeric or Vaseline on our skin and a lot of clay, that was there go-to," explained Aweng, "And then in Australia, they'd use gentle skincare brands. But I didn't get to skincare properly until 2019," she added. "I've always had great skin but once you start a skincare routine, it's setting up a precedence for what your skin will be like in the future. So I started playing around with other high end brands and everything and my friends said, 'You should try Barbara Sturm.' Ever since then, I haven't used anything other than Dr. Barbara Sturm - it just works for my skin. Why would you get off something that actually works for you."
8. Melanin-rich skin has specific needs
"As soon as skin has more melanocytes the inflammation cascade is way higher," Dr. Sturm explained, which is why she included ingredients like Lumicol and African Whitewood Bark in the DARKER SKIN TONES Line to help address inflammatory responses. "The line is a little more intense but it's extra anti-inflammatory, it's anti-bacterial and it evens out the skin tone," said Dr. Sturm. Aweng added that she uses the Line "religiously," with her favorites being the DARKER SKIN TONES FACE CREAM, DARKER SKIN TONES FOAM CLEANSER, the SUN DROPS SPF50 and the DARKER SKIN TONES ENZYME CLEANSER. "Doing the whole routine really helps out your skin, especially when you have a red carpet event - it gives a real glow," she added.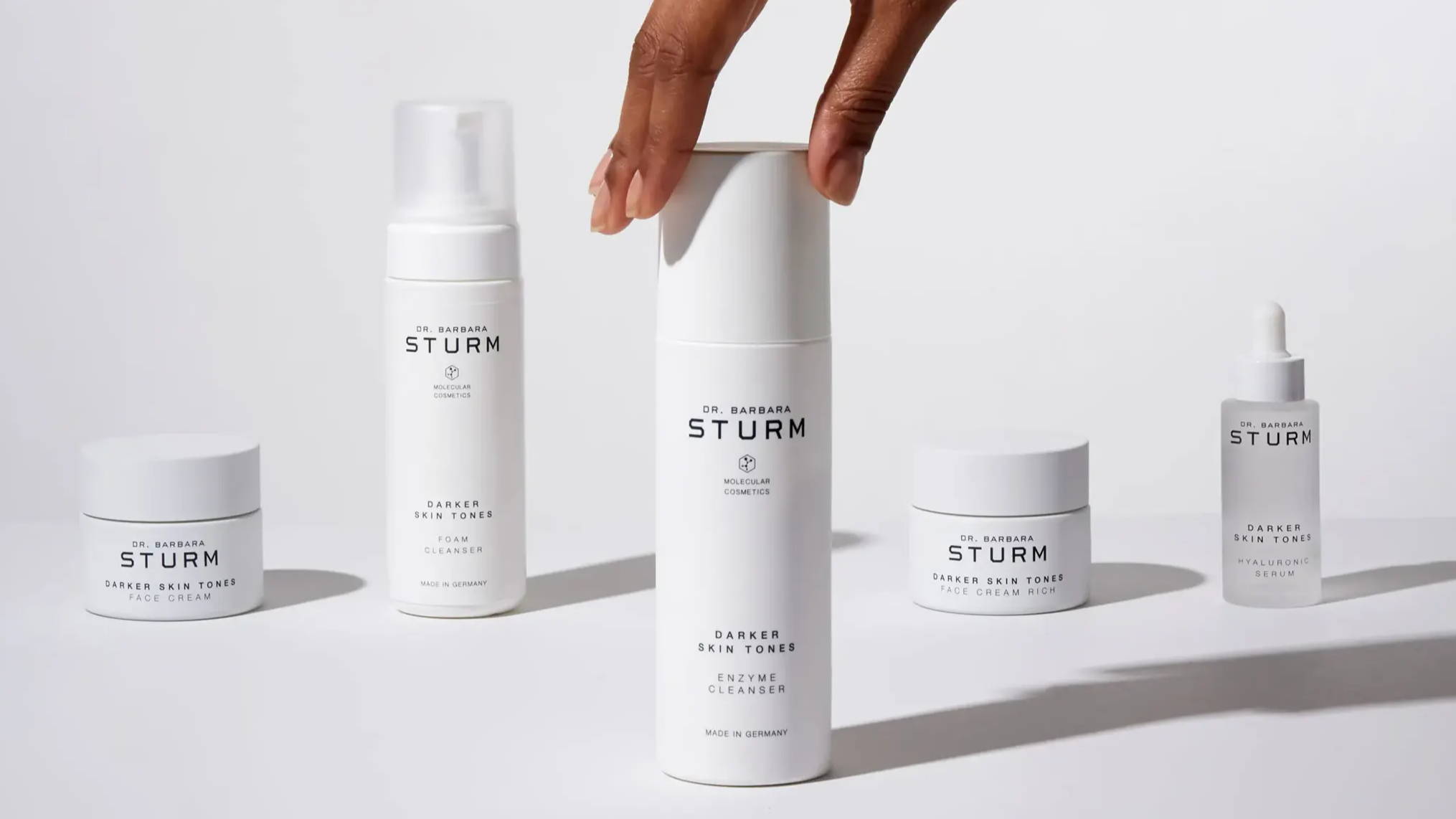 Skin School with AWENG CHUOL:
8 Takeaways
Skin School with AWENG CHUOL:
8 Takeaways
---