Sanne Vloet is a successful model, entrepreneur, passionate cook, and co-founder of Nekohama, a matcha company inspired by the search for a healthier and nutrition-rich alternative to coffee. Sanne takes inspiration from her travels when it comes to cooking and leads a balanced and healthy lifestyle. Her personal YouTube channel chronicles her wellness journey, and she also has an Instagram account dedicated to her recipes. Read on to learn more about Sanne's typical daily diet and the go-to meals she cooks for herself.
When do you usually wake up in the morning? Can you tell us a little about your routine?
I usually wake up around 6:30 / 7:00. I am a morning person and feel I am the most productive in the early hours. Dedicating the first hours in the morning to myself helps me to stay grounded throughout the day especially when I have a busy schedule.
Can you tell us a little bit about your morning routine? What's the first thing you do?
When I wake up, I start by washing my face with some lukewarm water and a splash of cold water to wake up. Then I brush my teeth and drink a full bottle of water. Especially after sleeping, it's so important to hydrate the body. Then I go downstairs and light a candle (my favorite is Cire Trudon) and make my morning matcha. I use my own brand Nekohama matcha. It completely replaced my morning coffee a couple years ago and doesn't have a bitter taste at all. It's so comforting and I really get long lasting energy from it. Then I journal for about five minutes. I take my phone off airplane mode and check briefly if there is anything important I need to respond to. I take out my foam roller and will do stretches for about 15 minutes. Then I either do a Pilates workout, or I go take a shower and then do my morning skincare routine; my three essentials are the Dr. Barbara Sturm HYALURONIC SERUM, FACE CREAM RICH for my dry skin and the SUN DROPS SPF50.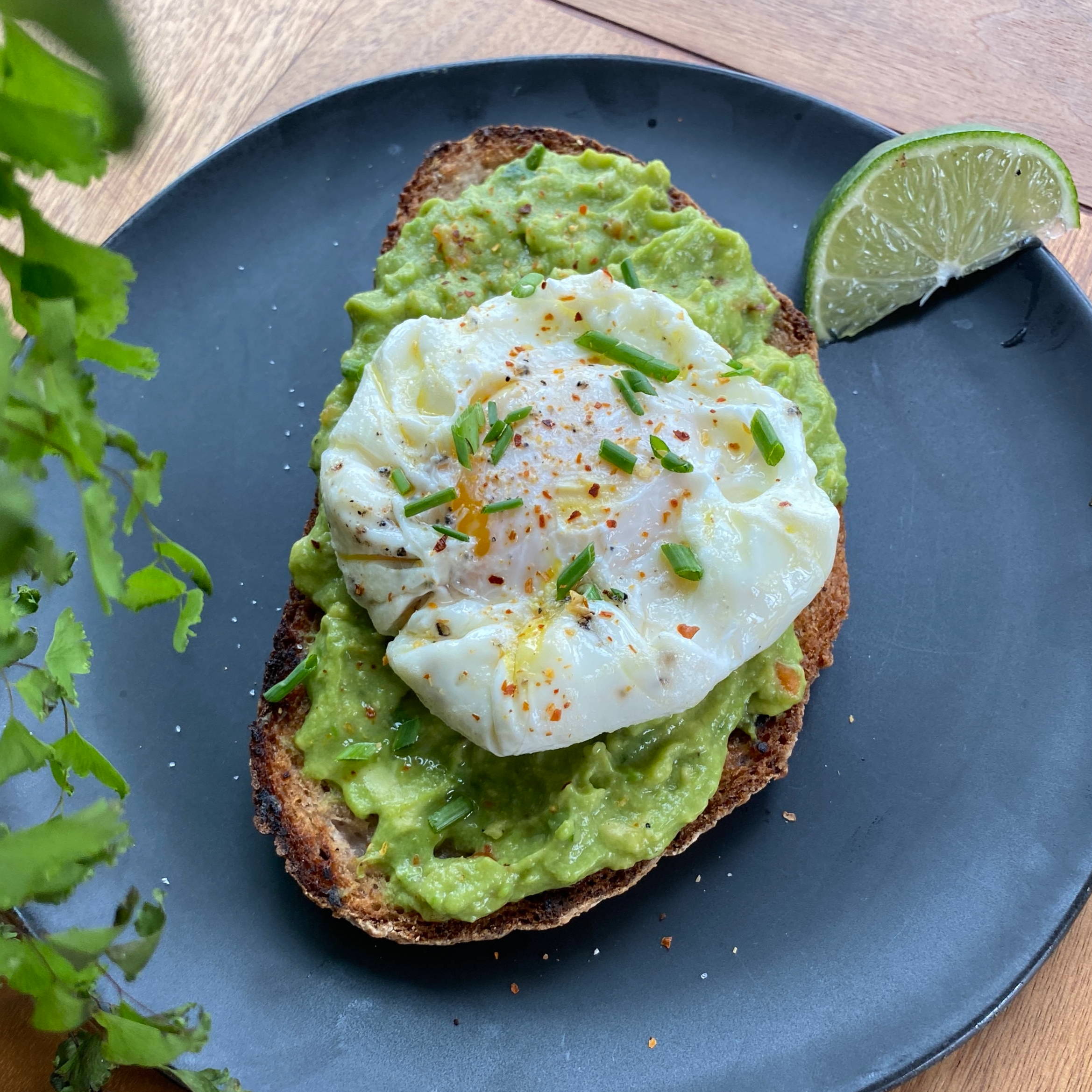 AVOCADO TOAST WITH POACHED EGG
Do you eat breakfast? If so, what is your go-to?
I love breakfast! Some days I eat breakfast and sometimes it turns into more of a brunch. I don't do specific fasting, it's more intuitive whether I feel like eating breakfast or not. My go-to is probably a green smoothie! It's just so quick and I can easily add some protein. I love making mine with frozen mango, frozen pineapple, lots of frozen spinach, half of a frozen banana, a fresh piece of ginger, almond milk, and collagen protein powder. On the weekends I love a savory breakfast with eggs, bacon, avocado and sourdough toast.
Are you a coffee or tea drinker?
Definitely a tea drinker! I am obsessed with matcha and drink at least three cups a day. I also have a rooibos, herbal or chai tea with some chocolate every night before I go to bed. It's very calming for me.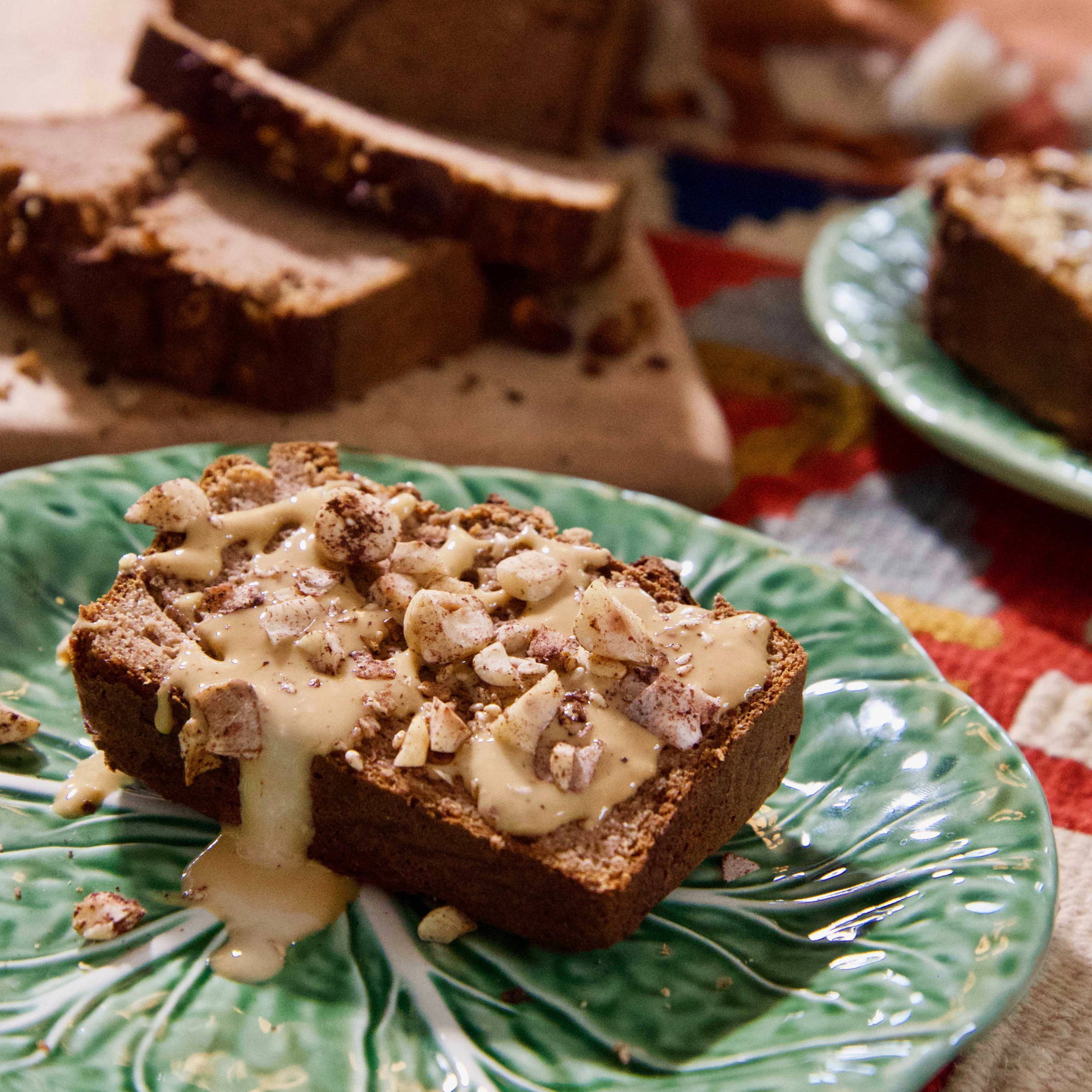 Do you snack in between breakfast and lunch? What are some of your favorite snacks?
I don't snack much in the morning but when I do, it's probably some banana bread. I often make banana bread at the beginning of the week and have it in my fridge throughout. I love to snack on it or have it in the morning for breakfast if I have an early start.
How much water will you drink in a day?
I drink a lot of water! I have a giant 64oz water bottle with me. It looks gigantic and a little funny, but this way I make sure to drink enough otherwise I forget if there is no bottle near me.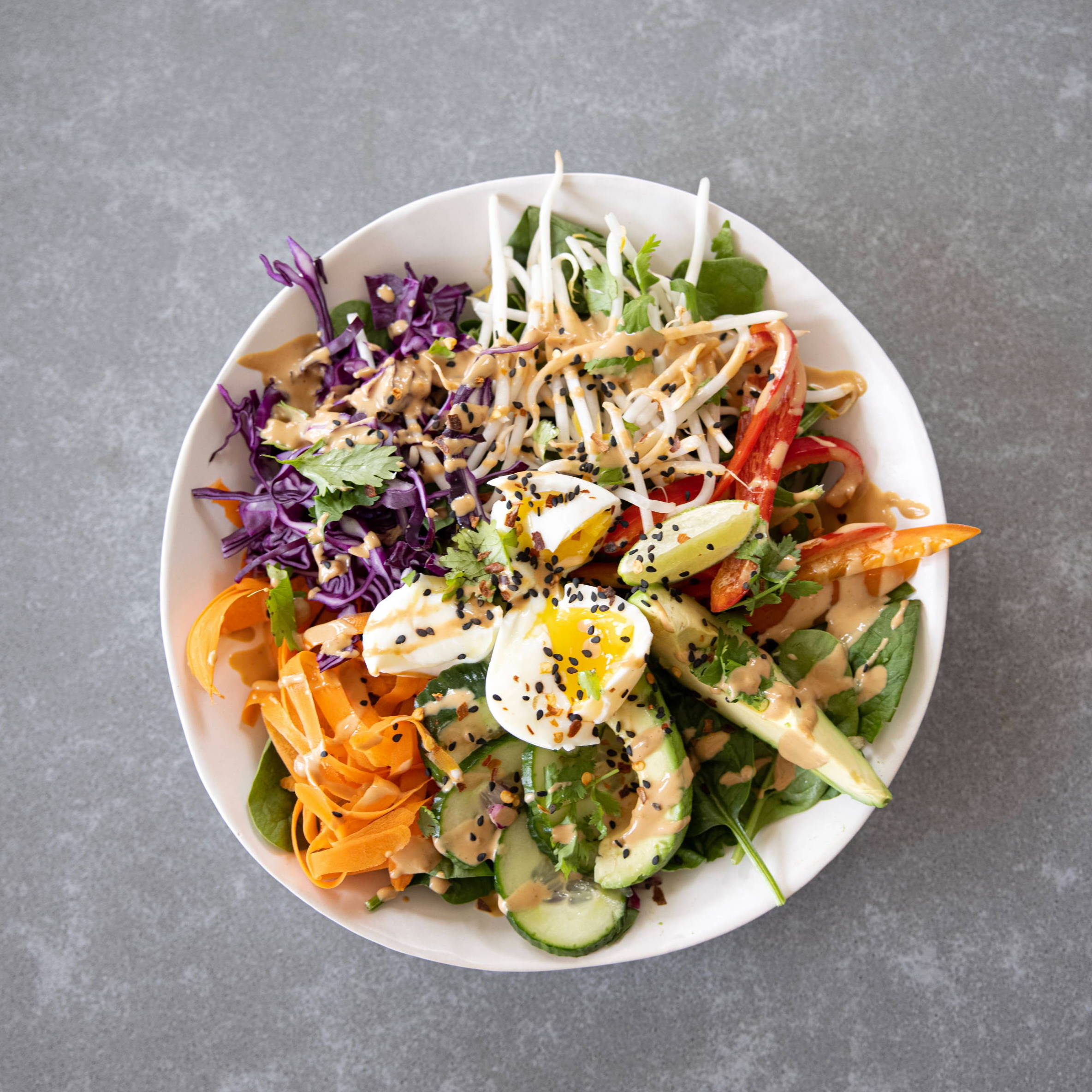 FRESH VEGETABLE SALADS WITH EGGS
My go-to lunch is a big salad with grilled veggies, a fresh herb dressing, avocado, chickpeas and a protein like egg, quinoa, salmon, or chicken. I also really enjoy tacos for lunch. I often use leftovers from dinner in a taco, you can basically put anything in there! I don't like to waste food.
If you go out for lunch or get takeout, what's your favorite restaurant?
Oof, that's a hard one! I really love Gjusta or Gjelina here in L.A. The quality of the ingredients is incredible, and everything is organic and mostly locally sourced. All the dishes taste so fresh. I also really enjoy Goop Kitchen here in Santa Monica!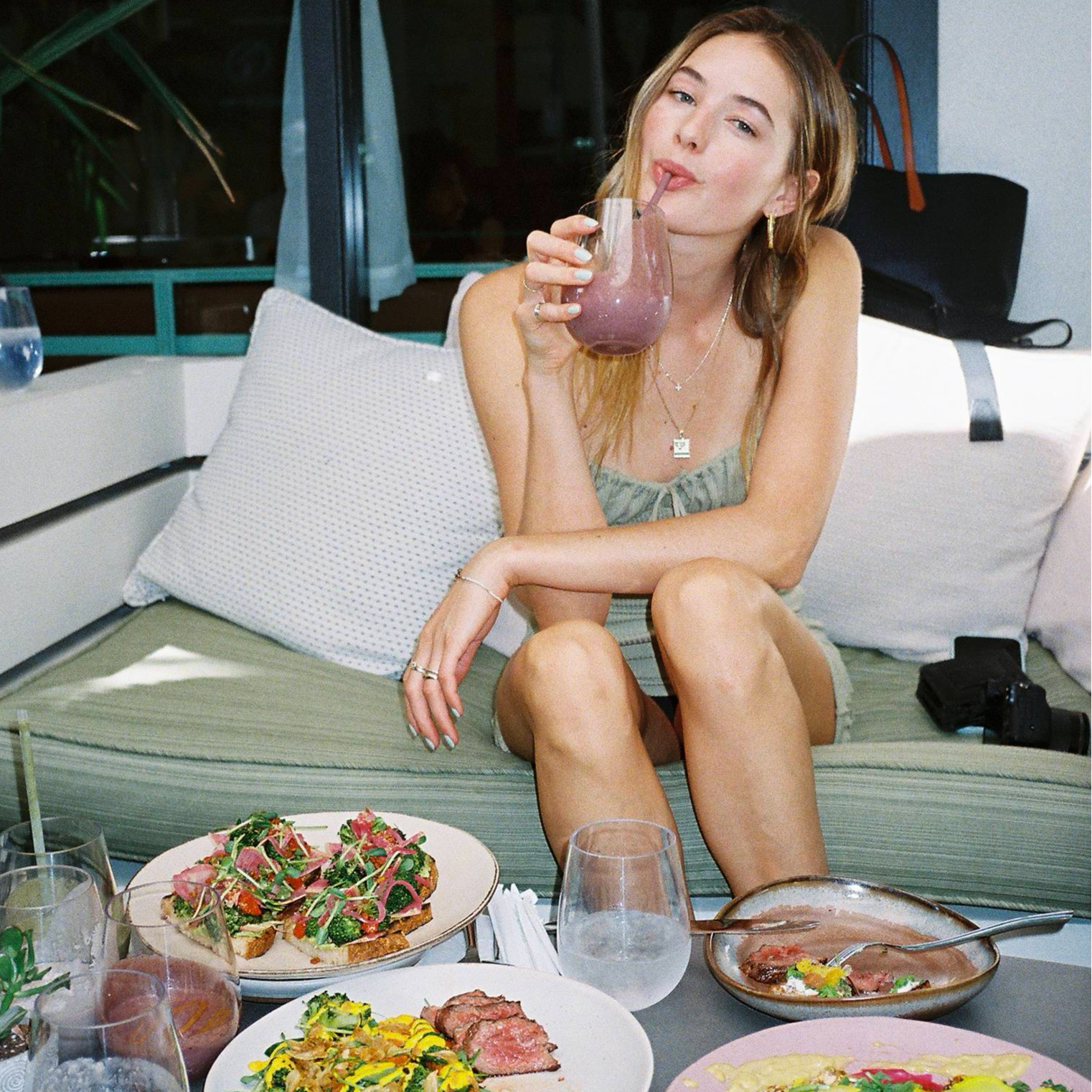 FROM PERSONAL SANNE VLOET ARCHIVE
Do you snack in the afternoon for a pick-me-up?
I love snacking on some Hu Kitchen crackers and carrots with hummus. I also enjoy chocolate protein bars from Midday Squares. I am also obsessed with Paleo Puffs and Siete chips. They are both grain-free, made with non-saturated oils and taste just like chips.
What's your ideal dinner? Are you a good cook? What recipe books do you always turn to?
I love cooking, it's one of my biggest passions! Honestly, I get a lot of inspiration from my travels. I would say my cooking style is a mix between Japanese dishes, Mediterranean and Indian! My ideal fall or winter dinner would be a grilled miso salmon, steamed kabocha squash, a kale salad and jasmine rice or a hearty vegan curry with chickpea and sweet potatoes.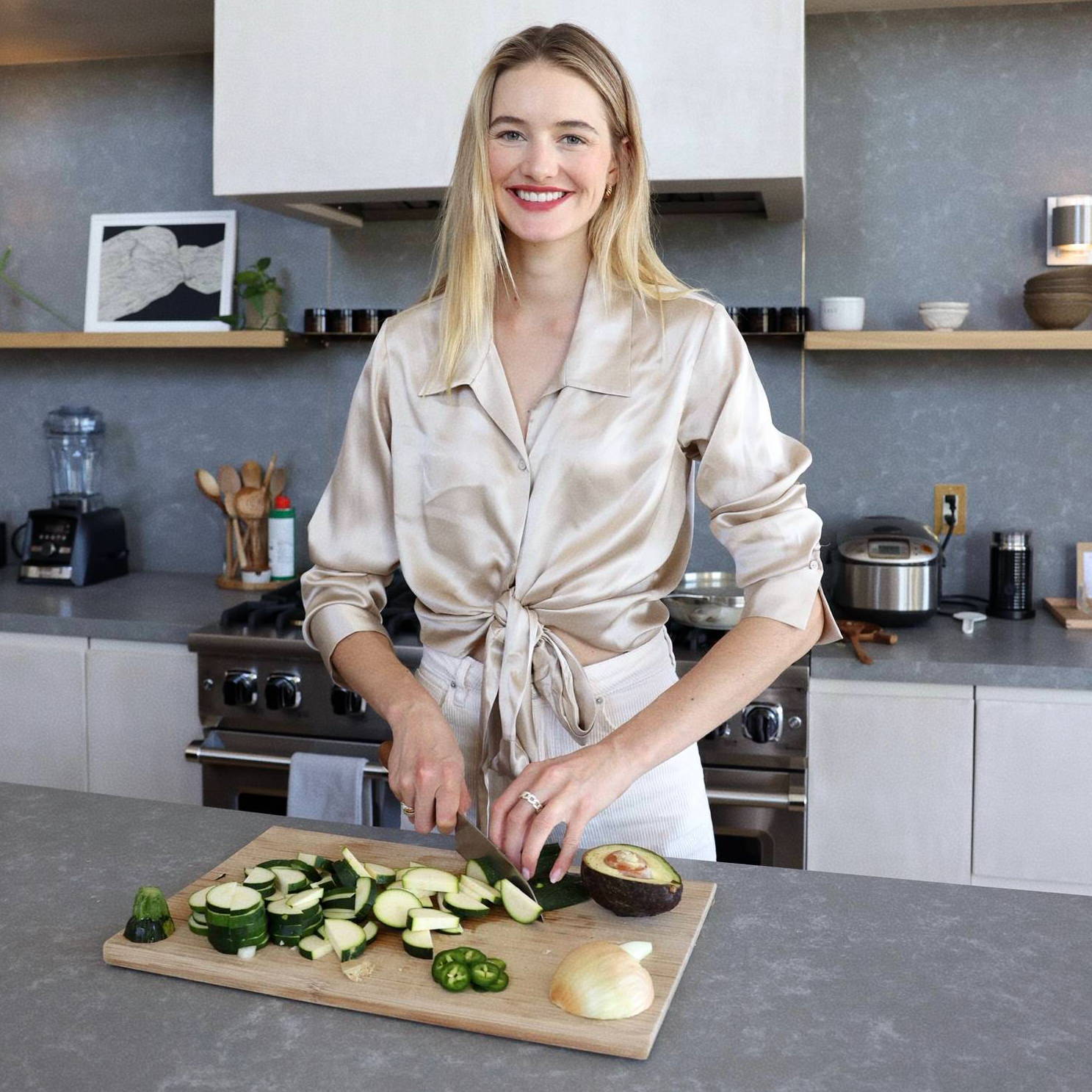 FROM PERSONAL SANNE VLOET ARCHIVE
What about dessert? Do you have a sweet tooth?
I don't have a big sweet tooth but something I have every night is a cup of tea and some chocolate! Hu Kitchen chocolate with hazelnut butter or vanilla crunch is my favorite. I dip the chocolate in my tea.
Do you drink? If so, do you have a favorite cocktail?
I do drink occasionally! My favorite cocktail is an Aperol Spritz, it reminds me of Europe and always puts me in a good mood. But during the winter I enjoy a glass of red wine, I love Chocolate Block from South Africa.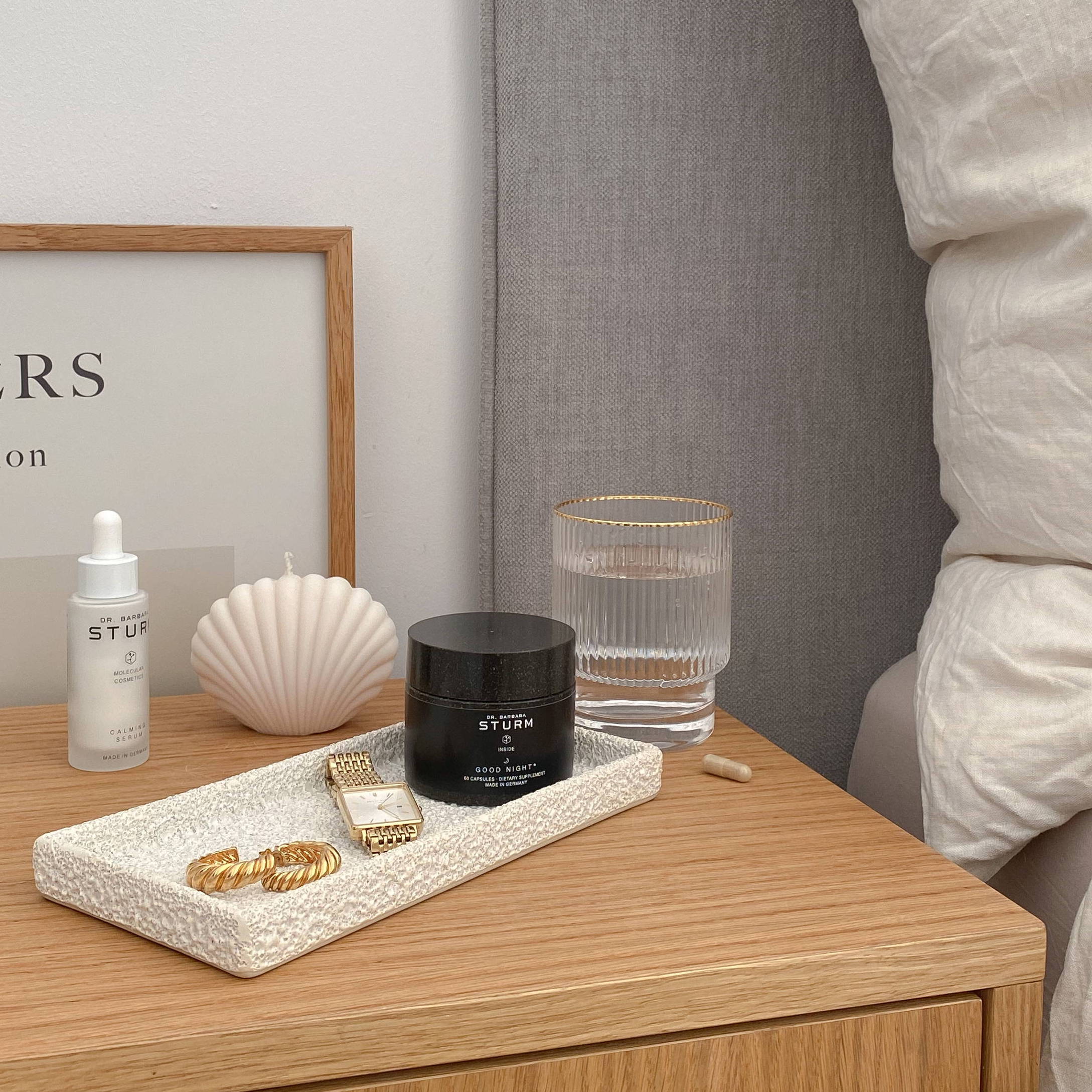 How about before you go to bed? Do you have a favorite bedtime tea or a ritual that helps you sleep?
I am a pretty good sleeper but sometimes I take CBD from High Line Wellness. I often light a candle right before I go to bed just to calm my body and mind.
---
---
---