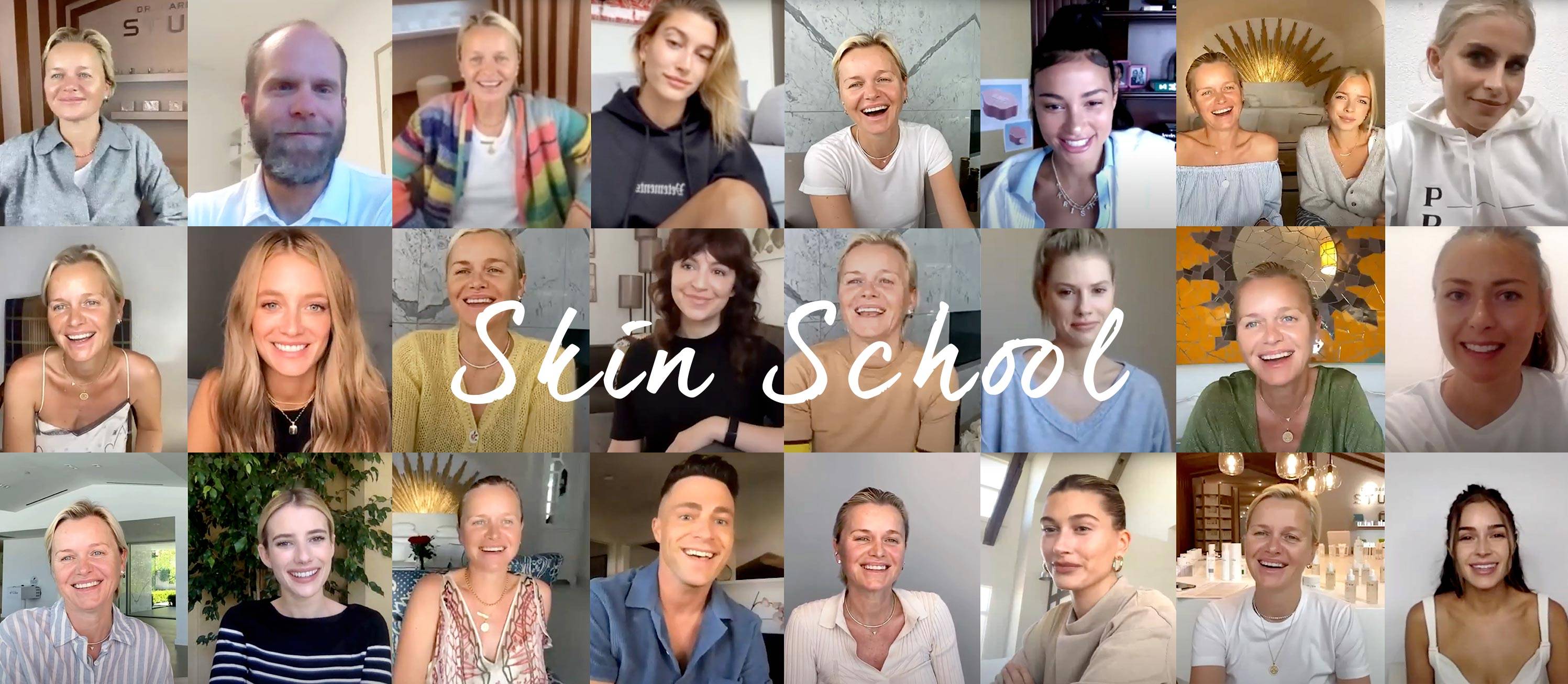 Dr. Barbara Sturm's #SkinSchool is open. This educational online series is for teenagers who struggle with their skin and want to learn how best to take care of it.
Skin School is a series of live digital classes specifically focused on the needs of teen and young adult skin. During each session, Dr. Barbara Sturm shares her advice on common concerns such as blemishes and breakouts and offers ingredient and lifestyle education on how to help achieve healthy skin. From external and internal influences that can impair and destroy skin barrier function, to how young adults can turn hormonal and acne-prone skin into a clear and radiant complexion, Dr. Sturm addresses a variety of relevant topics. Attendees are also able to ask Dr. Sturm for advice during a live, interactive Q and A.
Skin School is occasionally co-hosted by special guests; Hailey Bieber, Emma Roberts, Charlotte McKinney and Kristen Noel Crawley have all previously taken part, discussing their unique experiences and offering insights into their own skincare journeys. Teenagers can view the Skin School schedule and register to join the complimentary classes by signing up via Eventbrite.
WATCH THE LATEST SKIN SCHOOL
Elle Macpherson joins Dr. Barbara Sturm for an educational masterclass focused on skincare, health and the benefits of living an anti-inflammatory lifestyle. Elle also shares some of her own secrets for maintaining inner wellness for good health, beauty and vitality.
In this session of Skin School, Dr. Barbara Sturm is joined by style icon and model Olivia Palermo to discuss skincare and the importance of a good, daily routine for healthy skin. Olivia also shares her go-to, antioxidant-rich smoothie recipe and her self-care secrets.
A live chat with Dr. Barbara Sturm and Dr. Will Cole, a leading functional medicine practitioner, on inflammation. Together, they discuss how inflammation affects the body, health and skin as well as the methods and lifestyle changes you can put into practice to help combat its triggers.
Supermodel and advocate Ashley Graham joins Dr. Barbara Sturm for an intimate conversation on anti-inflammatory skincare, product ingredients and Dr. Sturm's 'less is more' philosophy. Ashley also shares her advice for boosting self-esteem and gaining confidence.
From experiencing hormonal breakouts to the effects diet can have on the skin: In this session, Dr. Barbara Sturm discusses with model Devon Windsor her skincare journey and tips.
Dr. Barbara Sturm and model Mollie Sims discuss her skincare journey; from dealing with hormonal acne and pigmentation, to the routine she swears by to keep her skin looking healthy.
Dr. Barbara Sturm talks to Dr. Maximilian Schubert, Clinical Director at the renowned Austrian wellness and health centre, VivaMayr Altaussee, about how our diets can affect our skin.
An educational live conversation between Dr. Barbara Sturm and Hailey Bieber live on TikTok.
Dr. Barbara Sturm talks to Canadian model Kate Bock about her skincare routine, daily diet and the effects a healthy lifestyle has on the skin.
Dr. Barbara Sturm talks to American actor and model Colton Haynes about how he maintains a healthy diet, and his go-to strategies for self-care.
Dr. Barbara Sturm and Charly Sturm talk to German fashion blogger and model Caro Daur about how she takes care of her skin and how she takes time for herself.
Dr. Barbara Sturm talks to retired Russian tennis professional Maria Sharapova about her skincare habits and how she's learnt to be kinder to her body.
Dr. Barbara Sturm talks to American fashion influencer Olivia Culpo about her simple night-time skincare regime and her top tips for winding down before going to bed.
Dr. Barbara Sturm discusses acne and breakouts and the ingredients that help you care for melanin-rich skin in this exclusive Skin School with the founder of KNC Beauty, Kristen Noel Crawley.
Dr. Barbara Sturm co-hosts this week's Skin School with Holly Daniels, a member of Dr. Sturm's Product Development & Education Team, to discuss ingredient science and its importance for healthy skin.
Dr. Barbara Sturm and Charlotte McKinney discuss pre- and post-workout skincare, adapting your routine for the summer and the importance of protecting your skin.
Dr. Barbara Sturm shares her anti-inflammatory skincare philosophy and explains the importance of a healthy, protected skin barrier and the factors that can cause its imbalance.
Dr. Barbara Sturm and Emma Roberts provide advice for the best methods, techniques and ingredient science to help take care of teen and young adult skin.
Dr. Barbara Sturm discusses how to find the right cleanser and moisturiser for acne-prone skin and Hailey Bieber shares her simple skincare routine.
Q&A WITH DR. BARBARA STURM
Dr. Barbara Sturm answers your most asked skincare questions, from how to treat acne scarring and redness, to preventing breakouts and the benefits of an anti-inflammatory lifestyle.